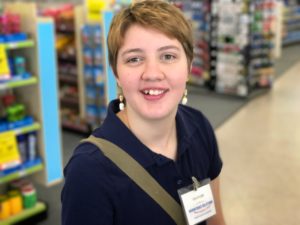 The end of July doesn't mark the end of summer, especially not here in Texas. (Honestly, it feels like summer here in October. In July, it feels like Africa.) But it does feel like change to me. It feels like the new year. It feels, in very real ways, like the world is shifting once again, just a little.
This summer has been a big one for Schuyler. In the spring, she got signed up to do a summer employment internship for young people with disabilities, and after some false starts, Schuyler began her paid internship at a CVS in our town. I think it's important to mention the company by name, because more and more businesses are opening their hiring practices to people with disabilities, even in a current political and social environment that would not seem to place a value on the societal and professional contributions of the disabled. It's a slow process, and employment options for people like Schuyler are still extremely limited. Companies who participate in these kinds of programs are doing good work for humanity. So thank you, CVS, even though your pharmacy screws up Schuyler's meds kind of a lot.
Schuyler enjoyed her new proletariat experience, that I can say for sure. Her supervisor reported that she was always positive and worked hard, and was genuinely sorry to see her go. Schuyler learned how to do things like fill out a time sheet, and she has now been officially inaugurated into the Society of Holy Crap I Have Money Of My Own. She showed up every day dressed professionally, and she even made at least one friend whom I suspect might endure past the duration of the internship. She never had a customer get nasty with her, and no one made fun of her, at least not that she was aware of. (I hate that I needed that qualifier, but there it is.) No matter how much the program might have fallen short in some areas of inclusion and actual job training (which it did, regrettably), it got Schuyler excited about the future, and that's no small thing.
This week, she attends summer percussion camp. Next week, full marching band camp begins, and a couple of weeks later, school starts. This will be Schuyler's senior year in high school, so everything she does will be one in a series of "the last time I'll get to do this" experiences. For Schuyler and kids like her, much more than for their neurotypical classmates, this is daunting. Schuyler's future remains clear and imaginable, if not entirely predictable, for maybe ten months. After that, it's a wall of creeping mist. Does it conceal rich and meaningful adult experiences, or is it a Stephen King kind of mist full of fear and danger and face-eating monsters? Your guess is as good as mine.
This is always a strange time of year for me because it was at the end of July in 2003 that Schuyler was first diagnosed with polymicrogyria. Her monster wasn't born that day, but it was revealed, and the great and terrible red line of BEFORE/AFTER was drawn in the narrative of our lives. Everything that came before that afternoon at Yale was prelude for the lives we were all three destined to live. The AFTER hasn't been even mostly bad, but it has been difficult and complicated. I'm always aware of the anniversary of that day and mindful of how much has changed and how many great truths have been revealed in the last fourteen years.
I don't know what the next few months are going to look like. There's a lot of change waiting to pounce. I only know that Schuyler is as ready for it as she can be, given the million-and-one variables at play in her life and in her heart. I like to think I'm ready, too.
Note: To support the site we make money on some products, product categories and services that we talk about on this website through affiliate relationships with the merchants in question. We get a small commission on sales of those products.That in no way affects our opinions of those products and services.