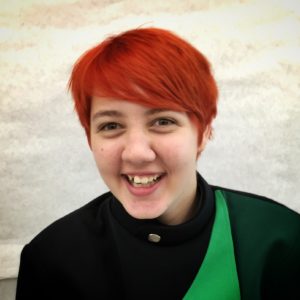 So let's consider two scenarios, two possible outcomes for a teenaged girl with a challenging difference trying to fit into a group of typical kids, the kind she'd so desperately like to join.
One year, the girl plays in the band at her high school, and is under the direction of a teacher who does not believe it is his job to instruct kids like her. He has contest coming up, he says. He's already pulled a player from another section to double her part because he doesn't have time to work with her personally. If Nerf made cymbals, that's probably what he'd give her to play. He mostly tolerates her, except when asked to implement her accommodations. When asked to attend her IEP meeting, he does so, but informs the committee that he doesn't have time to give her any extra help or make sure she has all the information she needs at the end of rehearsal. When one of her other teachers asks her if she still wants to be in band, she miserably replies "No." His response is indifferent silence, and he leaves the meeting early. She changes her mind about quitting, and he retires at the end of the semester.
The next year, the girl has a new director, a young teacher replacing the assistant director who did not believe in her the year before. This new teacher sees the potential in the girl, and encourages her as much as possible. When the band splits into concert ensembles in the spring, the girl is placed in a band that is conducted by the head band director this time. He challenges her, gives her music that is hard for her, on instruments both difficult and exposed. Given this challenge and the expectation that she will perform, she steps up. These two directors don't pity her, and they don't treat her with tender gloves. They build up expectations and then work with her to reach those expectations. And she succeeds.
This past weekend, Schuyler's high school band program held its annual awards banquet. Schuyler adamantly chose not to attend; social anxiety isn't her primary monster, but it digs its claws in when it can. But a friend on the band boosters board let us know during the presentation that Schuyler had just won an award for Outstanding Improvement.
This was no pity prize. This wasn't macaroni art on the fridge, or the much maligned participation trophy that some find so hilarious. No, this recognized her individual achievement. It identified Schuyler as someone who did hard work and expanded her own personal boundaries and abilities. For that, I couldn't be more proud of her.
This award recognizes something more, however. It illustrates the tangible results of teachers who see a student like Schuyler for the possibilities she represents, not just the challenges. It gives us a much-needed example of what inclusion really can look like, not just a pedagogical buzz word but a working philosophy. It reminds us that every student has hidden abilities, and that they can be unleashed if teachers and support team members will simply look beyond what they see in the moment and dare to overbelieve.
Most of all, it illustrates a point that I think all parents of special needs kids grasp all too well. There is no limit to the damage that can be inflicted by teachers who don't believe in the possibilities inside every student. And there's no telling what those students might achieve under the care of teachers who deign to believe, or overbelieve, even.
Because that's the thing about overbelief. Much of the time, it turns out not to be overbelief at all.
Note: To support the site we make money on some products, product categories and services that we talk about on this website through affiliate relationships with the merchants in question. We get a small commission on sales of those products.That in no way affects our opinions of those products and services.