The Inevitable Sorrow of Passing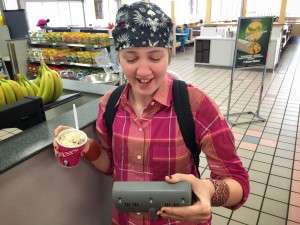 "Passing" is a controversial topic in the disability community, and for good reason. It refers to the efforts by people with disabilities, most often with the encouragement of their school communities and society in general, to alter their behavior in order to "pass" as non-disabled. To walk among us, to use an unfortunate phrase. Passing is a distasteful idea when it comes from the outside world. It's more complicated when a young person with a disability that they can mask to some degree falls in love with the idea of convincing the world that they are "like everyone else", as Schuyler often puts it. It's heartbreaking, not just because they shouldn't have to, but also because the chance of ultimately failing is pretty close to a certainty. And that's a hard fall when it comes.
Schuyler gets little peeks at what her world might be like if she weren't able to pass, at least on a cursory level. This weekend, she had another 72-hour ambulatory EEG, to measure possible seizure activity and to record any changes in brain activity that might help explain some of the troubling changes in her behavior and memory. This involves two primary components: a bewildering array of wires and sensors glued to her head and leading to a small computer in a backpack that she hasn't taken off since Friday, and a small video monitor which she has to carry around with her and place so that it's watching her as close to constantly as she can arrange. (We call the little monitor "The Schuyler Show".)
On a good day, especially when she doesn't have to speak too much, Schuyler passes pretty successfully. There are a few outward signs of her polymicrogyria, but she masks them pretty skillfully. She carries an iPad with her at all times, of course, but these days, that doesn't exactly distinguish her from any other teenager. (Insert curmudgeonly, "get the hell off my lawn" statement here.) Like a lot of kids with intellectual disabilities, she worries about people noticing her difference and judging her for them. For Schuyler, passing is a very deliberate choice. I try to encourage her to embrace her uniqueness, but while I hope passing won't always be her position, for now, as long as it's what she wants, I'll help her any way I can, even as I know where all this leads. This is going to be a tough lesson for her to learn, but it's going to be one she learns herself. It has to be.
Going out in public with her "wire hat" and the weird cable tail that leads into the backpack, and carrying The Schuyler Show with her, Schuyler's anxiety about "people looking at me" has gone through the roof. She makes a distinction that's interesting. She had no problem wearing it to her Miracle League soccer game on Saturday in order to support her team (particularly on Autism Awareness Day; she very deliberately picked out a blue shirt). And when I asked her if she minded if I wrote about this for today, including using a photo of her in her cyborg gear, she sad "Sure, go ahead." Among a supporting, knowing community like Miracle League and the people who regularly read about her, she's not embarrassed at all. She even thinks it's kind of badass.
But when it comes to moving through an unknowing and often unsympathetic world, she feels anxiety. She knows that with her head wired and the evidence of her wonderful but flawed brain right out there in the open for everyone to see, she can't pass. She's not one to hide away from the world, but after a few forays into the grand rough world on Saturday, she chose to spend Sunday at home. Not even the chance to see Star Wars at the dollar movie could entice her back out.
I believe on some level, Schuyler probably understands that even without her wire hat and The Schuyler Show, she won't be able to entirely pass forever, and perhaps not even for much longer. As she gets older, the differences in her communication and, perhaps more critically, in the way she behaves become more obvious to a watching world. We still live in a society where being different is suspect, a fact that those of us with kids like Schuyler know all too well. If you're not like everyone else, if you're perceived as broken or unwhole, doors close. Doors of opportunity, doors of personal relationships and doors of independent living. Passing lets Schuyler stick her foot in those doors, but that only works imperfectly, and most impermanently.
Later today, Schuyler will have her wire hat removed. She'll spend the rest of the evening washing and rewashing her hair and probably picking glue bits out of it, and then she'll be free to go back underground, like a spy deep inside enemy territory. In her eyes, it's friendly territory, even if she's only welcome there up to a certain point. I wonder if, on some level, she understands that the clock on her disguise is running out.
Note: To support the site we make money on some products, product categories and services that we talk about on this website through affiliate relationships with the merchants in question. We get a small commission on sales of those products.That in no way affects our opinions of those products and services.
About The Author
Rob
Robert Rummel-Hudson is the author of "Schuyler's Monster: A Father's Journey with His Wordless Daughter", which tells the story of raising a little girl with a disability and learning to become the father she needs. It was published in February 2008 by St. Martin's Press.