Six Years Out From a Very Bad Day
Six years ago this minute I was crying my eyes out. We had dropped our son off and handed him over to the care of strangers because he was suicidal. He was holding himself together during the day at school and raging two to three hours a night at home. He had a breakdown at school, the result of PTSD from a surgery where he was awake and shouldn't have been, a life full of medical trauma, frustrations from years of speech therapy, physical and occupational therapy and learning disabilities we and his educators were fighting hard to understand.
It was a very, very bad day.
At some point during that ride over to the hospital (two wings devoted to 4-17 year olds) and sitting in the little room they had him safely cornered in that I knew. I knew this wasn't just any "episode" (our term for his rages). This one was different. His eyes were glazed over, he was despondent, he was pacing and for the short few minutes he did stop and listen to me, he drew a picture of death and destruction I won't describe here because I don't need to in order to communicate it was a huge, horrible, painful cry for help.
He handed me the drawing and I knew we would be driving him to a hospital for his safety. There was no question in my mind we would. We needed him to be safe and our patched-together protocol of little sleep to keep our eyes on him as close to 24/7 wasn't going to work anymore. Not with what I knew now, not with what I saw in that drawing.
So we drove him to a sad-looking building housing adults and children. We dropped him off in the care of strangers. We gave them a complete history and made contact with his medical care team for a check on what meds they could use to help him calm down and we left. We drove away sad, so, so sad. We were also relieved. We were relieved they would keep him alive because we no longer believed we could.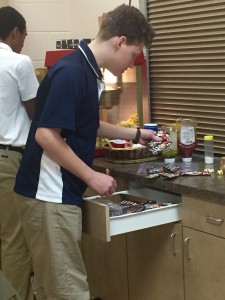 Our son was 10 years old.
Luckily our journey didn't stop there. We're six years out from that horrible day and I've just driven him home from a basketball game at school. He's in charge of concessions and works tirelessly to do his "job" well. He has good grades. He's in drama class in actual performances. He's happy. He has friends who laugh at his jokes. He has an amazing dry humor for the people who are privileged enough to see it, for those people who spend a little extra time to get to know him. He's devoted to his grandfather. He helped care for his grandmother before she died. He's had rages, but over the years with therapy, medication and maturity, they are few and far between and even then they seem like blips. Seconds long "episodes" that don't seem like episodes at all to a family like ours. These episodes don't include damage to our house, harm to himself or us. They don't involve restraining him. They don't involve the fear of opening his bedroom door to find him hanging from his loft bed. Those were dark, dark times. The despair in all of us and mostly in him.
Life is different six years out. It's so different that I almost let the day pass before I realized what day it was, and then I was so busy living the life of a two kid family I almost didn't have time to write about it.
But I couldn't let this day pass and not acknowledge it. I couldn't let this day pass without thinking about my husband and our daughter, in our little family unit who know the deepest depths of the pain he felt during the times of primal screams for us to end his suffering. Our little family unit who  – in our mistakes and fumbling – still loved each other through it, and still do, no matter what.
I couldn't let the day pass without thinking about my family and friends who surrounded him with love even though he pushed us all away because he thought he was unlovable, and his best friend, and his educators that helped hold him together like family before and after that horrible day, the teacher who put off retirement for a year to see him graduate 5th grade and the retired special ed teacher who came out of retirement specifically to help him catch up in school. We wouldn't even have this day to reflect on without his doctor who jumped in with both feet to treat a medically complicated kid, the same doctor who we believe, quite honestly, helped save his life. The very doctor that said, "I don't really care what his diagnosis is, my only goal is to make him more functional in the world. If there are meds that can help him, we will find them together." And he did.
I couldn't let today pass without writing about our son's resiliency and power, or his humor and his charm. I can't let this day pass without saying six years out looks pretty good. We have so much hope… for our son, the humorous, strong young man of ours. Over the years, we've held onto that hope tightly with some days it being the only thing we had. In so many ways we hung onto that hope until he could find some of his own.
————————————–
National Suicide Prevention Lifeline
Hours: 
24 hours, 7 days a week
Languages: 
English, Spanish
Note: To support the site we make money on some products, product categories and services that we talk about on this website through affiliate relationships with the merchants in question. We get a small commission on sales of those products.That in no way affects our opinions of those products and services.