World Suicide Prevention Day and One Boy's Life
"He could be mothered by any mother, it doesn't matter that it's me!"
I yelled those words to my husband one night on our dirty kitchen floor. He'd just come down from putting our 10-year-old son, Gage, to bed, to find me weeping uncontrollably. During the time our son wanted to kill himself, I often found myself crying because it didn't seem like anything we did helped him. It felt like everything we'd tried for months wasn't working. It felt hopeless.
I didn't realize it at the time but by bearing witness to his pain and letting him feel it, welcoming him back into the family fold everyday after nightly terrifying rages and the routine of dinners and the expectation that he still participate in our family life – especially when he felt like dying – helped him hold onto what little hope he had left inside.
Nighttime was the worst time for our son. It was challenging because he'd spent nearly all day holding it together in his unsafe world. He was navigating a world he didn't even want to be in with people he didn't even want to acknowledge were beside him.
Daytime was challenging for him too, because he was alive.
He had to navigate school.
He had to listen to authority.
He had to interact with classmates.
He had to do homework.
He had to get lab work and attend doctor appointments and therapy appointments.
He had to endure hospital stays with sometimes painful procedures and treatments.
He had to watch his sister go through the transplant evaluation process without being as sick as he was, challenging me one day, "So she doesn't have to go on dialysis, like me?!!!"
He found joy in nothing. He escalated from sadness to wanting to disappear, to wanting to die, to wanting for us to kill him and to wanting to kill himself. He wanted to die. For over two years our son wanted to leave this earth, to leave his life.
There were many, many times when I thought my son's (un)predictable rage and sadness would mix into a terrible tragedy. When we all slept, which was a very short window of a few hours because of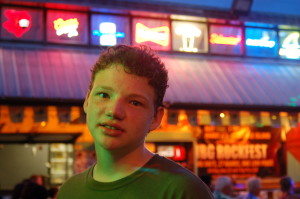 staggered bedtime for my husband and myself, he was on a psych-recommended in-home 24-hour suicide watch. It wasn't hard for him to be in our sight because he didn't want to go outside, play, or communicate. He had no opinion, except rage. There was nothing, except maybe a glimmer of love for our dog, that he had joy for whatsoever. We were desperately seeking help for him and yet, it still took nearly two years and an episodic mental health crisis to get him (and all of us) on the road to healing and recovery.
During the horrific times, when we were going through the motions of life and hanging on any way we could, I found the nights to be the worst time for me personally to process the pain of Gage's sadness and Quinn's failing health. My husband went to bed first and I would follow a few hours later when the house was quiet.  I'd eventually make my way upstairs with panic and fear.
I'd check on Quinn (pain killers in hand) who nearly always was awake or sleeping poorly because of the effects of failing kidneys because of scratching her skin until she had open wounds and I would comfort, administer meds and doctor her with band aids and then I'd go to Gage's room.
For months, dozens of times and dozens of times, hand on the door knob and I would pause. I'd take a deep breath, briefly close my eyes and hope and pray I didn't walk in on my son hanging from his loft bed as I turned the knob. It was the same loft bed he so badly wanted and we took apart piece by piece because of the danger it presented in our home.
A couple of years ago as I checked on him when he slept, I finally let myself believe that each time I turned his door knob he would be there, soundly sleeping under the weight of his heavy camouflage blanket. And with that I'm slowly releasing the images of tragedy. I hope one day, I can release all of those images, but the truth is, he is at risk for suicide again. It's because he is that we talk about it in our home, he allows me to tell his story, still and he's almost seventeen. He's the epitome of resilience and hope. If we could help him reach back to grab life again, you can reach back to someone, too.
————
It's World Suicide Prevention Day so now is as good as time as any to talk about this.
Are you at risk for suicide?
If you need help for yourself, please call the National Suicide Prevention Lifeline and they can offer support. Their phone number is 1-800-273-TALK (8255). What you are feeling isn't permanent and there is a way out. There are people who care about you and want you to live. I care and I want you to live.
If you think someone you know is at risk for killing themselves, here is a warning sign list. Out of 11 items on the list, I saw 9 of them in my then 10-year-old. If you are worried about someone, you can call the crisis line too. This is from their site:
Looking out for friends and loved ones is an important part of preventing suicide. You can call the Lifeline to speak with a crisis worker on behalf of someone you are concerned about. The crisis workers have access to local resources, and can help you identify ways to get help to your loved ones. So call 1-800-273-TALK today to help save a life.
————
Our son's history..
Early 2010, when we had to commit our son to a hospital for his safety and thankfully, it did save his life…. Driving Away.
Four years ago, On this Day of Suicide Prevention, I remember… a post about coming out of the horrific period of time when our son wanted to kill himself.
Three years ago on Suicide Prevention Day, the progress he'd made.
While searching for a counselor, a run down of our son's life…The Story of a Life in an Hour
Note: To support the site we make money on some products, product categories and services that we talk about on this website through affiliate relationships with the merchants in question. We get a small commission on sales of those products.That in no way affects our opinions of those products and services.