20 Alternatives to Saying "God wouldn't give you more than you could handle."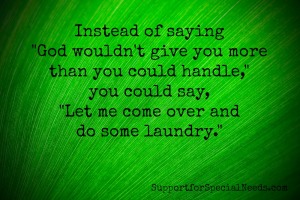 I wish I were clever enough to write a click bait title and I suppose to those of us in the special needs community this is a click bait title but in reality it's another thing that is said.
"God wouldn't give you more than you can handle." 
We've all heard it. If you have a child with a health condition, a child who died, a child with a developmental disability, a child who can't speak or walk, my guess is, you've heard this too. Multiple times probably. It is usually meant as something comforting from a well-meaning friend or family member.
I won't lie, it gets tiring and I believe in God. I just don't believe in the God that "chose" me as some special, rarely seen, super human that could handle the parenting of children who suffer. My first thought when someone says that to me, is "This God you speak of wants my kids to suffer?" No. I'm not buying it.
There are 100 things one can say instead of "God wouldn't give you more than you can handle" that provide comfort. I'm only going to share 20 of them.
"Let me come over and do some laundry." As noted above.
"I'm praying for you."
"I'm thinking of you all and how hard this must be." << for those who aren't the praying kind
"I'm going to swing by some milk and bread, is there any other staple you need?"
"How are YOU doing…can I help you so you can take care of yourself?"
"I hope today's appointment goes okay."
"What happened at today's appointment? Was it easy or hard?"
"I don't know what to say, but know I love you guys."
"I don't know what to say, but know I'm thinking of you."
"I'm dropping by some snacks at 6pm. If you leave a cooler out I know you don't have time for a visit."
"Let me run some errands for you. Post office? Shopping for a gift? Grocery store? Return library books?" <<< you have to be specific or we tend to say, "I don't need anything." <<< which is a lie
"I'm sending you a gift card for a restaurant near you. If you don't give me a choice I'm going to pick one."
"Sometimes it IS too much to handle, isn't it?"
"For what it's worth, I think you're really holding it together."
"Can I come over and help with bedtime?" << especially if partner travels!
"Do you need someone to go to the appointment with you so you can concentrate with the doctor?"
"I know you won't tell me what you need, so I'm going to say a few things, say yes or no to something I can do."
"Is Tuesday a good day to bring dinner?"
"Can I come over Friday and watch the kids so you and _____ can go out to dinner? I'm sure I can handle things for a couple of hours."
"You're doing an amazing job."
I'm sure you can add a few of your own!
——–
Note: To support the site we make money on some products, product categories and services that we talk about on this website through affiliate relationships with the merchants in question. We get a small commission on sales of those products.That in no way affects our opinions of those products and services.