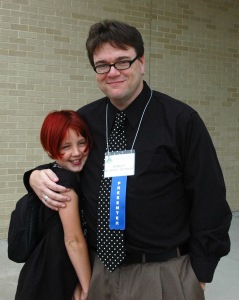 In the summer of 2008, shortly after my book came out, I was invited to give the keynote address at an assistive technology event held by an educational center in the area. Schuyler joined me at the book-signing table, tiny and bottle-red-haired and not possessing so much as a molecule of shyness. It was a major event, and it was the first speech I ever gave on the subject of Schuyler and her story. Come to think of it, I guess it was the first speech I ever gave to anyone, aside from the presentations I made to my speech club in junior high school. (I'm just going to go ahead and not count those speeches, riveting though I'm sure they were.) Since then, I've given well over a dozen speeches, in addition to panel discussions and interactive classroom sessions and such. In seven years, they've largely gone down mostly the same.
This summer, it looks like I'll be returning to speak to the same educational center where I first spoke back in 2008. But this time, something will be very, very different. This time, I'll have a co-presenter.
Schuyler will be joining me. Schuyler will have her say.
This isn't the first time she's gotten involved. At South By Southwest last year, she stood up in front of a crowd and demonstrated how she uses her iPad to communicate, for example. And she's joined me on stage a few times after my speech is done, just to wave to the crowd and give me a hug.
As she's gotten older, I've tried to have her in attendance at as many of my appearances as possible. I think it's good for her to meet so many people in the world of disability advocacy and technology, and I think it's helpful for people to see her. I can share her story with as much skill as I can muster, but seeing Schuyler, meeting her and experiencing the world through her eyes for just a little while, that's truly effective. Schuyler is her own best advocate, and now, at fifteen, she wants to take the next step.
She's already begun writing what she wants to say, and as the date approaches, I'll be helping her as much as she needs. That's becoming less and less, to be honest. While her grammar is imperfect and her focus is certainly fuzzy, she's becoming more and more comfortable with publicly sharing her thoughts. She posts on Facebook more and more, and she's delivering short presentations to her speech class at school. She's improving rapidly, defying expectations all around her. A few months ago, she posted in an AAC-related discussion online, only to have her words dismissed by a speech language professional at one of the major AAC companies as having been heavily edited. People who should know better are surprised by how much she's improving. Sometimes, that even includes me.
Schuyler is growing into an advocate for her own needs and wants, although it's not always easy for her. She gets nervous. She doubts the value of what she has to say sometimes. But at the same time, she sees how much people want to hear her perspective, and she is beginning to get a sense of what her future as an advocate might look like. She's taking the first steps into a life where the person who speaks up for Schuyler is Schuyler.
I could not be more pleased. I'm looking forward to this appearance. And the next, and the next. I hope to have this co-presenter from now on, right up to the day when I can sit in the audience and listen to her speak entirely for herself. Can you just imagine that?
I can.
Note: To support the site we make money on some products, product categories and services that we talk about on this website through affiliate relationships with the merchants in question. We get a small commission on sales of those products.That in no way affects our opinions of those products and services.