Doctors and teachers and therapists, they can be a great many things, but they're generally not very skilled prognosticators. To be fair, I don't think very many of them actually claim to be able to tell the future, and I imagine most of them don't even want to try. As parents of kids with disabilities, we ask them to. We demand that they try. Our world and that of our children is already far too full of uncertainty. As a result, we ask for information that our kids' caretakers and educators can't possibly possess. So I recognize that we really do sort of have it coming.
But God help me, I do so love it when they're wrong.
When Schuyler was diagnosed with bilateral perisylvian polymicrogyria almost twelve years ago, we had plenty of questions, and Dr. Google was pretty useless at the time. It's marginally better now, but it's still a matter of finding nuggets of useful information wrapped in fluffy layers of scary boo. The answers we did get back then, first from Schuyler's doctors and later from the teachers and therapists she worked with, weren't encouraging. They could best be listed in two categories: "Terrible Things That Will Probably Happen To Your Daughter", and the equally delightful "The Many Tings That Your Daughter Will Likely Never Ever Be Able to Do, Ever".
Both lists were horrible. They've also turned out to be equally unreliable. Let's look at a few items from the second list. I'll paraphrase from reports and documents and sad conversations over the years, particularly those following shortly after her diagnosis in 2003.
"Schuyler may never learn to read, and her fine motor capabilities will likely prevent her from ever writing by hand. Her condition will leave her fingers and hands clumsy, making it impossible for her to use sign language clearly or tie her shoes by herself."
It was only as few years later, on the publication of my book, that Schuyler proved that first part wrong.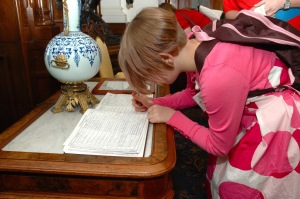 Schuyler signing the guestbook at Texas Governor Perry's office, 2009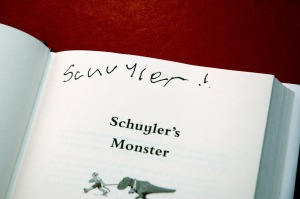 Schuyler's signature, 2008
It took her a bit longer, but over the weekend, seemingly out of nowhere, she conquered another impossible task.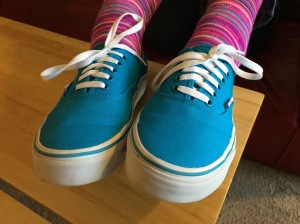 I can't tell you how proud we are of her. It's a testament to the idea that we should never say never when it comes to the capabilities of our disabled loved ones, of course. But it also illustrates just how Schuyler works, how she circles around a difficult task and just doesn't get it, until suddenly she very much does. Schuyler's old PE teacher tried to show her how to tie her shoes but let it go after Schuyler became frustrated. That was at least two years ago, and Schuyler confirms that it was the last time someone tried to teach her.
As has so often been the case with Schuyler, she just got sick of not being able to do it. When she picked out a new pair of Vans last week, she simply decided it was time, I guess. So she sat down, reviewed what she knew, and tied her damn shoe. I was sitting next to her at the time, and only became aware of her success when she said, "Daddy-O, look!"
One shoe, perfectly tied. Then she tied the other one, just like that. I don't think she believes in impossible things.
We've been told that it is unlikely that Schuyler will ever be able to get a driver's license or drive a car. Something tells me we should all be much more alert drivers in the near future.
Note: To support the site we make money on some products, product categories and services that we talk about on this website through affiliate relationships with the merchants in question. We get a small commission on sales of those products.That in no way affects our opinions of those products and services.