Siblingships: Special Bond through Special Needs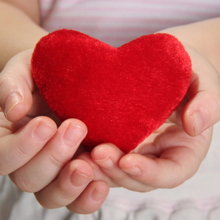 Elena and Bill, married for almost 20 years, were ecstatic to get the news they were pregnant. When Pierce, born August 28, 2003 was diagnosed with Down syndrome they did what most couples do; they dug their heels in and said, "this is our life, let's get on with it."
Not so easy was dealing with the inner turmoil. For Elena, who thought her father, a man who strives for all things perfect, wouldn't accept her son. But, like Elena and Bill, was smitten upon the first bottle fed. For Bill, it was getting used to what it meant to be a stay-at-home dad, a decision that was made between he and Elena well before for practical purposes; she made more money and he was more patient. "It's the best job I've ever had," said Bill.
On Pierce's 3rd birthday, he was diagnosed with Leukemia ALL (common to kids with Down syndrome) when their second child, Evin, was about 6 months old. So Evin only knew is brother as having cancer. Bill said, "This is what life is, but you have to deal with it. This was the battle we had to fight."
Pierce had a terrible time when Evin was a year old and ended up in the hospital on ECMO  (extracorporeal membrane oxygenation)  and nearly died. Pierce pulled through and his and Evin's relationship was as strong as ever. "They were good friends and they hugged a lot and they played a lot and they looked forward to seeing each other, even when Pierce was in hospital." Bill said that they were very protective of each other and one of his and his sons favorite things to do was to wrestle.
One of the special things Evin used to do besides feed Pierce from time to time, was to give Pierce a foot massage, which always made Pierce feel better. Evin was just 2 ½ at the time and that is also when the cancer came back. That was in November 2009.
Elena and Bill decided on minimal treatment; knowing the end was near. Pierce was weak and within a month, with the assistance of home hospice to help them through it, Pierce died. It was during the Holidays many years ago.
Bill said he and Elena weren't the type to lie to their kids. They've always explained the cancer as "evil" and they talked to the kids about Pierce dying. They explained that Pierce's soul would always be with them. Their belief is that when they see a crow or dragonfly that it is Pierce.
Since then, including nature walks and during time recently in Italy this holds true for them. While abroad, during a time when crows wouldn't normally be around it seemed that one was always near sending loud crows in their direction. They talk about Pierce every single day. It's how they stay connected to him. That and they also look at a lot of pictures and videos so Evin can still know him. They know that Evin will only remember him from the pictures, videos and not necessarily the stories themselves.
Evin's grief is "okay" now but when Evin brings Pierce up they stop whatever they are doing and they talk about him. They are lucky enough to have a song to remember him by and they play it often. It was produced by the organization Songs of Love who are "dedicated to providing personalized songs for children and teens currently facing tough medical, physical or emotional challenges, free of charge." The song is an active reminder of the things Pierce loved and the things he and Evin did together.
Now, years past Pierce's death, it's important to Elena and Bill to still make sure that Evin knows the difference between Down syndrome and cancer. They've visited the old Down syndrome group and that helps Evin know kids who are like Pierce, and its helped Evin work through his grief. In fact, Bill said, it's healing for all of them. While Bill misses him more when he does interact with kids with Down syndrome, he also feels close to Pierce.
Bill said, "There is so much negativity in the world so we chose to look at the positive because that brings more positive to us." He said he believes like the Egyptians; "When you die if someone speaks your name, then you are still alive."
And so with Peirce's brother Evin they talk about Peirce every day.
Note: To support the site we make money on some products, product categories and services that we talk about on this website through affiliate relationships with the merchants in question. We get a small commission on sales of those products.That in no way affects our opinions of those products and services.