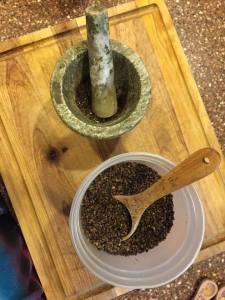 "Soak the cardamon in the milk before you mix it with the other ingredients." 
My mother said those words last December when we were baking Swedish Coffee Bread at our house. It was one of the steps that had eluded us for decades because my mother didn't remember it until we were sitting there with my kids, me still in my pajamas and baking bread.
"Wait. That is nowhere on any recipe card I've ever seen." I said. "Well, sometimes we remember things just when we need to," she laughed, as she explained she had just had that memory of when she was little and watching her grandmother, my Nanny, baking the same bread.
That day she left her Kitchen Aid mixer she brought over to make our mixing easier. She told me to hold on to the mixer for her and she winked. We both knew she wanted me to have it with the unspoken agreement I would make bread for the family. She also left her mortar and pestle for safekeeping. That day we perfected the recipe for three loaves using the things she handed down.
My mother died seven months after this day of bread-baking, my sister just two months. It's been a horrible year for my family and there has been turmoil for me, personally. I've been in a continual bubble of grief, as my friend Blaise would say.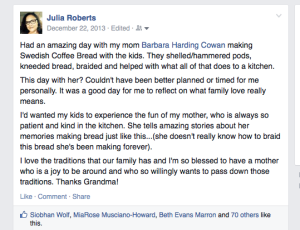 I've been putting off making the bread, knowing my grief was too heavy. This is bread that our family loves and I could whip up in a morning while working (it has to rise, be braided and rise again), but I couldn't bring myself to do it. I couldn't face the soaking of the cardamon and the other steps knowing my father wasn't going to rush over here for a loaf for both my parents to eat, which had been our routine every few weeks since she turned over her mixer to my care.
In fact, in July, I made nine loaves. As usual, I texted my dad who picked up a loaf. The bread, particularly good toasted with butter, was carefully sliced that day in July and given to my mother before bedtime. Just a few hours later, she died unexpectedly. I take a strange comfort in that fact because she loved the bread so much and had it as her last snack.
The mixer she gave me had stayed covered on my counter, waiting. In the past few weeks I've been caught in the bubble so it's not a surprise I've been missing my mother and longing for a connection to her. I pulled out the ingredients today and started mixing, my mind deep in memories.
I've needed to talk with her recently about my personal struggles. I miss the chance to pick up the phone and talk them through with her, getting the wisdom of her years and unique experience. She could help me see what I needed to see in order to make decisions myself. I thought about her a lot today as I was trying to look at some things objectively. In the months before her death she told me several times, "You'll know when you know." It wasn't complicated advice, yet I couldn't see it recently or through my tears until later in the day as I was baking.
Then I could feel all of her wisdom wash over me.
Sometimes we remember things just when we need to.
—–
Note: To support the site we make money on some products, product categories and services that we talk about on this website through affiliate relationships with the merchants in question. We get a small commission on sales of those products.That in no way affects our opinions of those products and services.