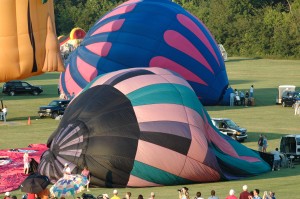 In Schuyler's Monster, I wrote about how special needs parents step into the fray, even when we're basically unarmed, even when we've found ourselves in that battle a million times before, and even when we know we're going to lose.
"You never give up, and you persevere, not because you're plucky or heroic or even smart, but rather because you hate the thought that there might have been some answer or solution waiting right around the next corner, and you would miss it if you gave up too early. It's hope, and it's stubborn and sometimes it's even stupid, but it's the thing you've got so you run with it. You go into battle against the monster with a rubber sword because, really, what else are you going to do?"
But sometimes, often even when things don't even seem to be all that bad, we just stop. We freeze in our tracks, and we just sit down. The only word I can think of is deflated.
We heard from one of Schuyler's teachers on Friday, asking for our help. Some kids in her class had reported that Schuyler was hitting them, out of what the teacher theorized was high spirits. Could we talk to her and see that it didn't happen again?
Shamefully, we didn't react the way we should have. We confronted Schuyler about it shortly after, once we were away from the school, and we did so from a place of disappointment and accusation. If there's one thing I would take back this past week, it would be how I reacted to Schuyler, and to her teacher, for that matter.
It was only when Schuyler gave her side of the story, in which she had gotten physical with these boys not because she's a high-spirited whack-a-doo weird kid or whatever, but because she was frustrated, and she was hurt. She'd heard them talking about her, and when she confronted them, they told her she didn't belong in the class, that she wasn't skilled enough and shouldn't have been there at all. Angry and on the spot, she lashed out inappropriately, and it was that part that the other kids reported to the teacher, who didn't even bother to find out what her side of the story might be.
It was a classic example of how kids like Schuyler get marginalized, and in this particular case, her own parents actually participated, shamefully. Schuyler had no agency here. She wasn't a fully-realized human being with a perspective and a story to tell. She was a problem, one that her parents needed to solve. She wasn't in trouble, exactly, because she can't help herself, right? She can't be expected to be held to the same standards as other students.
Except she can. I think she's waiting for someone to take her seriously.
There's not much to say about what came next, because it's still a work in progress. Schuyler wrote a note of apology in which she took responsibility for her actions and also explained what happened, all in her own words without assistance. She's still waiting for some acknowledgement or response, as are we. Four days later, it's becoming clear that we're probably going to have to push for things to be made right.
And I have to be honest. I feel completely emotionally depleted. We all had a rough weekend, with the death of a family dog we've had for nine years, and so that has admittedly not helped. But honestly, I was feeling this on Friday, too. That sense of having been here before, of having already argued for Schuyler's right to be human. Sometimes it feels like two steps forward and one step back, but honestly, other times it just feels like walking in circles.
Today, I'm tired of the walking. I'm tired of screwing up, and I'm tired of other people treating Schuyler like a cute little pet who might pee on the carpet, rather than a complicated and nuanced human being. My weapon is a rubber sword today, and it feels especially ineffective. I'm just going to sit for a while and see what happens. I wish I had something in my tank, and I'm sure I will tomorrow.
But not today. Sorry.
Note: To support the site we make money on some products, product categories and services that we talk about on this website through affiliate relationships with the merchants in question. We get a small commission on sales of those products.That in no way affects our opinions of those products and services.