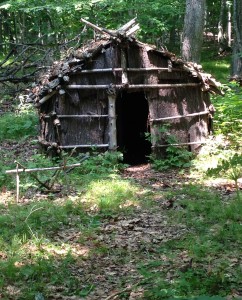 I was about to knock on the door of a client I had never met. During our brief phone conversation, I had gathered very few details other than her budget and priorities…
Walking up the front walk of the blond brick suburban home, I had passed several oversize pots of flowers.  The pots were awkwardly spaced. The stiff, single-style blooms seemed re-potted quickly from the original plastic containers. The pots themselves were colorful – simple with a single bright color for each.
The pots were preparing me for what I was about to discover…
Colorful, yet awkwardly spaced pots. Stiff, single-style blooms rigidly re-potted from the original plastic containers. No chairs to linger in. No door adornments. Not a faded ball, or errant trowel. The minimal landscaping consisted of prickly bushes in need of a quick trim.
My job requires me to consciously register what others observe unconsciously. Here are three things I was thinking in those moments:
1. SOCIAL CONVENTION – Someone in this home understands social convention. They have displayed "just enough" seasonal plants for the front of the home and kept them alive – but they are not plant people and they are not spending much time on the front porch. Other homes on the block have layered, designer arrangements in graceful urns with matching wreaths, while others have bountiful perennials, white rockers, and blossoming trees. The curb appeal of this home fits in just enough not to draw attention to itself.
I imagine I will find the same within the home – current furnishings, but without the gleam and polish. The decorative touches will be minimal rather than professionally designed. I know my client recognizes she is not keeping up because that is why she called, but I now realize she may be bearing her burden with a "nothing to see here" mindset.
2. VISUAL PROCESSING – The pots are creative and clever with their bold, solid colors, so someone in this home is thinking a little outside-the-box. But interestingly, the pot and plant colors are in competition with each other. The hues and tones of the flowers do not "match" the pots. Someone in this home is not viewing the pots, plants, and front of the home as a visual whole.
Again, I imagine the decorative layer of the home will not be emphasized. Window treatments, home décor items, and carpets will not tell a visual story. Organizing systems, if there are some in place, will not be color-coded, nor will they work together as a functioning whole.
3. LINEAR THINKING – Additionally, the placement of the four pots does not enhance the curb appeal of the home. They are not placed at the corners with authority, or even in a varied height grouping. The plants look, well, they look "planted." They are awkward. But they are there. And the colors are happy. Someone in this home is happy and has a youthful spirit – but they are not processing their environment in a linear, organized manner. I imagine the furniture will be sparse and organized in an awkward, yet functional way.
Because I work with what is directly in front of me (and in real time), I am conscious to take my cues from what my client can process. I have observed that this client knows there should be pots with flowers, but is not seeing the big picture. As a result, I will not expect the living space to be organized in a conventional, big picture manner.
I will also not expect things like alphabetized spice racks, or even spices grouped by size and type. I imagine, however, the spices are at least in the kitchen. Maybe even in a closed cabinet? And if not, that is probably a goal.
The pots and bushes have given me a heads-up. I knock without judgment and with enough information to know what I can reasonably expect to achieve. The door opens, and I enter…
What would your home's curb appeal reveal to me about the organizing systems or living conditions inside your home?
Author's note: This post was written in support of the heroic families facing daily challenges behind their "curb appeal" – the extent of which are sometimes unbeknownst to family and friends.  It is for one brave mother in particular who, at the urging of her therapist, was brave enough to let me in…  
Note: To support the site we make money on some products, product categories and services that we talk about on this website through affiliate relationships with the merchants in question. We get a small commission on sales of those products.That in no way affects our opinions of those products and services.