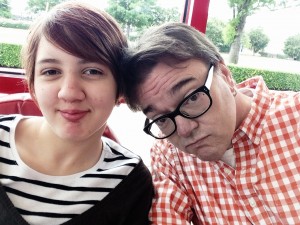 I've written about this topic before. I'll write about it again. So if it feels like I'm recycling, perhaps you're right. But I guess it bears repeating, because in some ways, it's the thing that's the hardest to take about Schuyler's disability, and her increasing self-awareness of how it shapes her world.
We don't want Schuyler's monster. I know we're not supposed to say it, but we there it is.
Without going into detail, I'll just say that Schuyler had a couple of incidents that made for a rough week. There's no nice way to put it. There was no external cause for these incidents. They didn't come from an unsympathetic world or an unfortunate choice, no bad-hearted person or cruel circumstance. The badness that visited Schuyler this week was entirely a product of her polymicrogyria and the mysterious dark effect it can have on her from time to time. After the most frightening incident, we all sat and talked and tried to make sense of it all. We had no idea why it happened. More troubling, neither did Schuyler.
We talked ourselves out and sat in silence for a minute. Schuyler looked up at me with resignation and quietly said it again, the thing that I think we'll always revisit from time to time, maybe forever.
"I don't want my little monster anymore."
I can tell you from experience that there's no good reply to this. Schuyler doesn't want to hear about how her PMG makes her unique or is an essential part of who she is. She knows that the answer is never going to be, "Oh, well, why didn't you say so? We'll take that thing right out!" She understands that her PMG is an indelible part of who she is, and lately we've been talking about it more and more as the brain malformation in her head, where it's located and what it looks like, rather than a metaphorical monster. She's letting go of Polly a little bit at a time, making space for polymicrogyria.
Schuyler understands her disability better now than she ever has before. I'm immeasurably proud of her for that. But every so often, when things are hard, she pushes back a little. She doesn't rage, she doesn't cry or fall into despair, all of which I imagine would be my own response if I were in her shoes. She simply goes on record as saying that she doesn't want it. She knows her monster doesn't require her permission to do its wicked work, but she denies it that permission anyway. I'm incredibly proud of her for that as well.
This weekend, Schuyler began a project she's been planning for a while, a guest blog post about being a teenager who is different and who uses assistive technology to improve her life, for a program that helps people with disabilities find the right technology for their needs. I'm going to pay her for it, because writers deserve to be paid for their work and I want her to understand her worth, but she doesn't know that yet. She's writing it simply because she's got a story to tell. I don't have many answers to her most difficult questions, to my everlasting shame and frustration. But she's beginning to look for her own.
Note: To support the site we make money on some products, product categories and services that we talk about on this website through affiliate relationships with the merchants in question. We get a small commission on sales of those products.That in no way affects our opinions of those products and services.