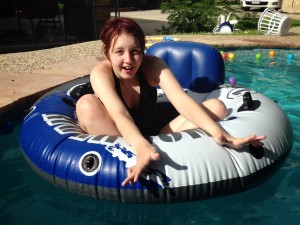 For the Fourth of July, I drove Schuyler down to San Antonio to see her godparents. She had a great time, getting to hear them perform in a band concert at the Alamo (and I challenge you to have a more patriotic July 4th than listening to American band music and a guy in colonial garb angrily recite the Declaration of Independence at the Alamo), and basically spent the rest of the weekend in the pool. As far as summer holidays go, that's hard to beat.
There were other friends staying with Schuyler's godparents, and as a result, she got to spend a few days with a girl she'd met before and corresponded with a little over text messaging. Schuyler and her friend are roughly the same age, and even look eerily similar. If you saw them together, you'd have zero doubt that they were sisters. More to the point, they share attributes that make for both strengths and weaknesses. Both are wholly original spirits, something that will make their adult lives deeply rich but which can make middle school years a challenge.
Watching Schuyler and her friend navigate their shared space was an eye-opening experience for me. I observed the ways in which they connected, and watched them dance around the ways that they simply couldn't connect. It gave me a sense of what a friendship with a neurotypical kid might look like, as well as why it has been so hard for Schuyler to make those friendships work out for long. I don't always have a very good concept of how far Schuyler really is from the developmental norm of kids her age. It's not something of which I should be so ignorant.
Mostly, the experience gave me a more comprehensive view of what a neurotypical girl Schuyler's age is really all about. Or to put it another way, I kept getting the sense that in a parallel world, this girl friend might be very similar to what a monsterless Schuyler might look like.
Guiltily, it's something I imagine a lot, and have for the past eleven years. I know that's forbidden to say, but there you go.
It was good for Schuyler to hang out with her friend this weekend. It allowed her to be herself, but in the context of a social engagement with someone smart and kind who is her age and who walks in the typical world. Schuyler will need more of that as she begins high school.
It was also good, for a day after her friend left, for Schuyler to have time with her godparents while just being her happy, weird little self. I have a feeling my daughter will always operate in two worlds like that. And perhaps that's not so bad.
Note: To support the site we make money on some products, product categories and services that we talk about on this website through affiliate relationships with the merchants in question. We get a small commission on sales of those products.That in no way affects our opinions of those products and services.