Is self-care possible in special needs parenting?
I spoke at a conference recently and one of the questions during the Q & A from an attendee was "What do you do – if anything – for yourself?" It's true. I have an intense, busy life and from the outside, it seems nearly impossible to practice self-care because of the medical, educational, social and emotional needs of my children.
Even with an intense life, it's possible to do some sort of self-care. I replied back to the question, excited, because I've used a phrase since a therapist asked me why I wouldn't give up volunteering because of all of the responsibilities I had in my marriage, with my children and in my home. I replied then, and still today the same answer: "I'm not willing to give up what I want to do because of what I have to do."
The therapist thought for a second and said, "Huh. Good point." Since then I've held tightly on to those words when my parental/home/marriage responsibilities merge with my passions and interests and it appears something has got to give. I think it's fair to say, for me anyway, self-care hasn't always been easy for me. Somewhere along the way in our 14-year special needs parenting gig, I realized I'd have to make time for myself and given my life, I'd have to get creative. Aggressive even.
What did I do? What do I continue to do?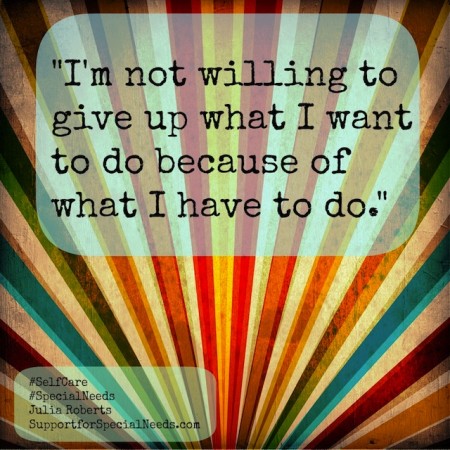 I started to ask for help and the more I asked, the easier it got and the more I asked. I started small… a movie. I started making time to sew and craft. I was vigilant about making time for dates with the husband and friends. This past December I started walking on a treadmill regularly and I'm still at it seven months later.
When you know you need to practice self-care it isn't always easy to make it a reality. It takes dedication, hard work and creativity. But you can do it. You really can.
Ask for help. Ask for help. Did I say you should ask for help?
Lower your standards where possible. A few times a week we eat on paper plates. One night a week we eat out. Our house isn't as clean as it once was, or where I thought it was acceptable anyway and so I let that slide. I spend less time worrying about the house than I used to and I selfishly figure out how I can get out of the house.
It's okay to be selfish. Really. It is.
If your life is intense and you cannot leave your child/children, why not have someone come when you are home? Having someone there could give you a chance for a bath (alone!), a nap, or to do something you enjoy like baking, reading, writing, working on a puzzle or crafting of some sort.
When the house is quiet and the kids are asleep, take some time for yourself and do something for you. Something that makes you happy. Something that relaxes you.
If you're partnered up, talk about how you can work this out as a couple, a family. You're in it together.
Don't let anyone tell you what you "should" be doing to relax. Cleaning and organizing sometimes is what makes me happy so I find doing that relaxing.
Be committed to something for yourself. Not unlike the hundreds of goals our kids have to meet over their young lives, we should have goals of self-care. We should treat time for ourselves as important as doctor appointments, speech, occupational and physical therapy. It could be a weekly/bi-weekly mani/pedi, read a book a month/join a book club, take a lesson/attend a class, see a movie/have dinner once a month with a friend. Have a date night regularly if you're coupled. Have more sex..that can improve your outlook a lot, I promise.
Ask your friends and family members for support, in whatever way that means to you. They can help you with the kid/s, errands, join you in an activity or be some kind of accountability partner! The people who love you want you to be happy and focus on you a bit, I'm sure of it.
Don't put you on the backburner. It literally does no one good, most importantly you.
Be kind to yourself. Give yourself a break. Get over the need to do everything perfectly, or just everything for that matter. I'd venture to say most of you can find time for yourself, so I encourage you to do it and not feel guilty about it. Self -care in special needs parenting is possible. You only have to make it happen, much like you handle everything else that is a challenge in your life.
You can do it. Please, do it.
—————-
Note: To support the site we make money on some products, product categories and services that we talk about on this website through affiliate relationships with the merchants in question. We get a small commission on sales of those products.That in no way affects our opinions of those products and services.