To The ATL via Mom 2.0 Summit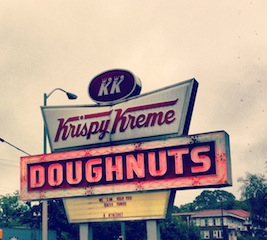 Full disclosure: I have never been to the Mom 2.0 Summit Conference and I am about as excited as anyone can be to attend it, so I've planned my entire schedule, every minute. Well, that's not entirely true because you have to be flexible, right? Luckily the fine people (Thanks Laurie White!) asked me to help out with communications for the conference (and are letting me attend to do it!). They especially want me to share what I know about Atlant specifically, so when you (also fine) people attend, it's like you have a BFF here. Me.
Julia Roberts.
Don't say it. (Yes, she's from here. Yes, I know that. No, I'm not her.)
I want to make sure I can attend a couple of my Must Attends, then the rest I'm going to let the mood strike me. Just some tips from me about conferencing, traveling, Atlanta and odds and ends.
Conferencing:
So when you're looking at the schedule and your eyes are wide and you have a glazed over look it's okay to look it make plans and then know you're going to change your mind. The schedule is amazingly full of incredible sessions. Be gentle on yourself because you will change your mind about sessions between now and the conference.
Shoes. I know people talk about the shoes at conferences. Resist the urge to wear lovely shoes that hurt your feet.
Attend the parties. The sponsors are great for helping bring the conference to us and it's always good to learn about them and mingle. Say hello to five people you want to meet. Make yourself do it.
Traveling:
Pack everything you need.
After you pack, double-check that you have your chargers. And include an extra plug thingy because you know we will need extra plugs to share with those who aren't as

conscientious

 

as you.
I know you think you need a cab but MARTA (train) is super easy from the airport. Follow signs to baggage claim and look for MARTA and Ground Transportation signs. Hop on the train northbound (Gold Line) and for $2.50 you can ride to the Lenox station. You'll get off the train, go up the stairs and it's about a 2 block walk right by the huge mall on the left and the Ritz-Carlton is straight in front of you on Lenox road and Peachtree Rd. (remember mall on your left). If you get lost, I don't know what to tell you.
Atlanta:
Do not, under any circumstances refer to Atlanta as Hotlanta. We no longer use that term. It was so 80s and 90s. We refer to it now as The ATL (or A.T.L.).
If you can shop a little bit Phipps and Lenox are great and you'll find just about any shop you'd like to find, so I am not sure I'd be helpful giving you points about shopping except buy great things I guess.
If you have an extra day here some fun things to see/do are… Centennial Park, Georgia aquarium (next to each other), Stone Mountain (great view from the top if a clear day, plus there are soldiers to see carved out on the side of the big rock!)
If you can eat at Buckhead Diner or White House please do. White House is just about 8 blocks maybe south on Peachtree. If you like breakfast and spuds and a real diner, head to White House. There can be a wait, but as early as you have to get up for sessions, you'll be able to find a seat (open 6:30am Friday & Saturday and 8:00 on Sunday.) Buckhead Diner

 

is an Atlanta institution and busy, busy.
Certainly you know Martin Luther King, Jr. was born here, preached here and that his kids run the MKL Center. Even if you can't visit you should drive by the place he was born and Ebenezer Baptist Church. A quick visit to the Center will allow you see where he and his wife, Coretta Scott King are laid to rest near the reflecting pool. The link includes all of the sights so you can plan accordingly.
If you're interested in cemeteries then my son will think you are really cool, like  him. If that's true, then you have to see Oakland Cemetary, founded in 1850. It's a great place if you want to take pictures, too. Some of my favorite photos ever were taken in Oakland. Plus, you should visit any cemetery that has a 5K run fundraiser called Pushing UpDaises.
You probably should eat at the Varsity if you have time and you've never done it. Get an F.O. (Frosted Orange). They've been open since 1928 and so they're famous and I read recently they currently have the largest car hop service in the world.
My friend has a really cool casual fancy restaurant (jeans are fine) called Babette's Cafe. She's super nice. Say hi to Chef Marla for me! It's right near The Carter Center, former President Carter's library downtown (VA-Highlands/Poncy area), so you can go there first. Great place to visit and lovely to walk around.
Visit Krispy Kreme donuts (in fact, I may drive you). Enough said.
Let me know if you want to do anything else and I bet I can figure out where to do it.
Odds and Ends:
Remember how I said I'm your Atlanta BFF while you're here? As any good BFF would do, I'll have some things in case you need them: safety pins, sewing kit, cereal bars, gum, breath mints, pens, a hug, a person to sit with/talk to if you're feeling anxious, girl products, Tylenol and plastic baggies. please tweet me at juliaroberts1.
The Atlanta airport is kind of big, so you'll want plenty of time to get to your gate. When you're leaving Atlanta they say about 2 hours is enough time to get through security and to your gate and that's probably safe.
Don't forget your cards and have to have them overnighted to you like I might have possibly had to do in the past.
Remember the hashtag #mom2summit so we can keep up with you while you're here.
Can't wait to meet all of you. Remember to come and find me and introduce yourself, please! Especially if you don't know anyone, because that is nerve-wracking. Remember, we're BFFs while you're here.
Photo Credit: Krispy Kreme, Liz Henry
Note: To support the site we make money on some products, product categories and services that we talk about on this website through affiliate relationships with the merchants in question. We get a small commission on sales of those products.That in no way affects our opinions of those products and services.
About The Author
Julia Roberts
Julia Roberts is founder of Support for Special Needs and has been a regular contributor since its inception in May 2010. A mom to two kids with special needs, she didn't want other parents to feel what is the often isolating world of raising a child (or two!) with disabilities. Her kids had kidney transplants at the age of eight and will need liver transplants in the future as a result of ARPKD/CHF. They both have vision disorders and learning disabilities.