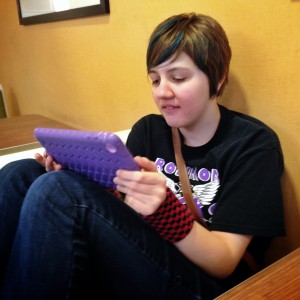 A little bit of shill work today, so I apologize for that.
If you are attending SXSWedu in Austin this week, I hope you'll stop by and sit in on a panel in which I am fortunate enough to be participating. It's called Autism APPtitude: Using Apps to Target Skills. It'll be held tomorrow, March 4, at 3:00pm, at the Hilton Austin Downtown at 500 East 4th Street, in Salon K.
Schuyler and I will be signing books afterwards, at 5:30pm on the 4th floor of the Austin Convention Center. I don't know if you need to be a participant in SXSWedu to get in the door for that. I think it might be sneak-worthy.
And the whole panel will be repeated a week later at SXSW Interactive, on March 11 at 9:30am at Austin Convention Center, 500 E Cesar Chavez St, in Room 10AB. There are probably more of you who will be around for that, and I hope you'll come by.
Here's the official description of the panel:
Every 20 minutes a child is diagnosed with Autism, a complex neurobiological disorder typically characterized by communication, social, and behavioral delays. Much media attention has focused on the power of tablet technology for communication, especially for those who cannot express themselves. Less discussed, but just as life-changing are apps that can be leveraged to address significant learning difficulties for people with Autism, including social interaction, engagement, organizational skills and transitions. Panelists will discuss how apps can effectively target skill development and harness strengths for those who need flexible modes of learning. Panelists will also examine the growing need for exceptional app development that allows users to create and customize content, track data, and monitor progress. A variety of apps and their target uses will be addressed and each panelist will weigh in on app features that benefit those with social, behavioral, and communication delays.
It's worth noting that no, my daughter is not autistic. The way she uses her iPad as both a speech device and an all-around academic and socialization tool makes her story very relevant to the topic, however, and the challenges and successes she faces aren't very different from other kids like her, including those with autism. It's one of those "elephant in the room" facts that for most members of the general population, fairly or unfairly, autism is synonymous with disability, particularly neurological or intellectual disability. As goes autism advocacy, so goes disability advocacy in general. I'm very comfortable being a part of this conversation.
If you were paying close attention back at the top, you saw that I mentioned Schuyler's presence. Yes, Schuyler will be attending both panels, and both conferences. (Only one of them will involve missing any school, in case you were getting ready to deliver a good scolding. A half-scolding will suffice.) Now that she's getting older, when I speak about Schuyler and larger disability issues as well, it feels strange now when she's not there, and not part of that conversation. The last time I spoke at SXSW, it didn't take her. This was a few years ago, and even then, she was probably ready. She's sat through many presentations over the years, but in the past year or two, she's begun paying attention. I go through my presentations with Schuyler now, letting her know what I'm going to say about her and her situation. Sometimes she corrects me, or simply gives me her perspective which I then include in my own remarks. At the presentations themselves, she often makes herself available, and adds her words to my own.
I'm not sure how involved she'll be in our SXSW sessions. That's up to her. Schuyler is fourteen now, and she got her own voice and her own agency. She's still unpredictable at events like this, but you want to know my secret? I like it that way.
If you're in Austin for SXSWedu or SXSW Interactive, I really hope you'll come see us.
Note: To support the site we make money on some products, product categories and services that we talk about on this website through affiliate relationships with the merchants in question. We get a small commission on sales of those products.That in no way affects our opinions of those products and services.
About The Author
Rob
Robert Rummel-Hudson is the author of "Schuyler's Monster: A Father's Journey with His Wordless Daughter", which tells the story of raising a little girl with a disability and learning to become the father she needs. It was published in February 2008 by St. Martin's Press.