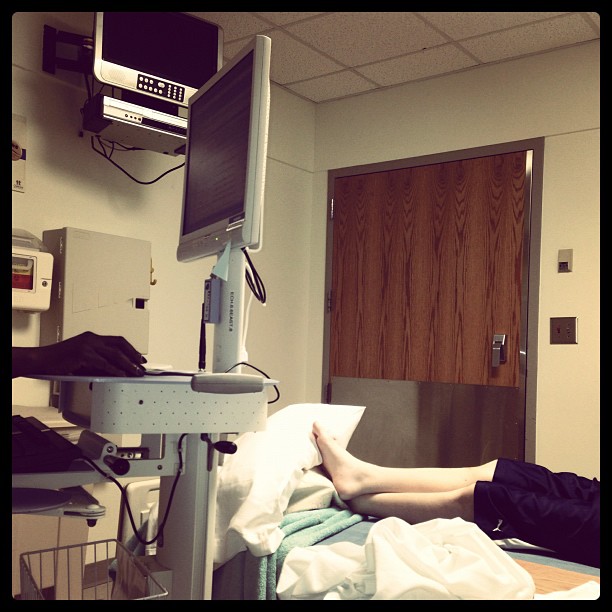 I heard the whoosh outside – whoosh, whoosh, whoosh, whoosh from the helicopter blade just 75 feet away. I peer out Gage's hospital window on the 6th floor of the old building to see the chopper tail carefully land on the top of the old parking deck. It's the same deck we used to park on early in the kids' disease discovery and dialysis and a kidney transplant. We used to race up to see if a chopper was there and if an employee would wave. They always did.
On this – the night of the whoosh sounds outside the window on the 6th floor – it was dark. My son was in the middle of the four hours of sleep he would get that night. I was awake to care for him because I know how he likes this and that, just so.
I thought of the parent with their child in transit to our children's hospital that dark night, the parent, who until that very moment had a healthy child and then all of a sudden, they didn't. Or worse yet, the parent who had to come separately to the hospital not knowing how their child was doing while in the air to our hospital.
I think about the parent and the panic they feel. The utter disbelief. They are numb. They are in shock, thinking, "How did this happen to us?"
I wish they knew they'd learn all the terms and medical speak. They'd become intimately aware of symptoms of conditions they weren't able to pronounce even one week earlier.
Google will be their friend, their worst enemy.
They won't ever feel normal again, but it won't matter because they'll soon have a new normal and they'll barely remember they ever had an old normal.
I want to tell them that their social workers can help them navigate the financial mess they will probably find themselves in a month from now, a year from now. Or 10 years from now.
I want to tell them they can be great advocates, they just don't know it yet. In fact, they don't even know the strength they have. I want to say their kid will bring that out in them, I promise.
I want to encourage them to reach out to family and friends for help, even when it's hard, especially when it's hard. 
Please, I'll say, take the offers of food and be specific about your needs when people ask. When they ask how they can help, tell them. You don't want to do this alone.
I want to show them where the Ronald McDonald House is and on which floors the best vending machines are located and where to get crushed ice. I hope they learn about the special parking rates and a free bagged meal if they need it, provided by beta clubs of elementary schools. Wear your badge for a discount in the cafeteria and store, I'll say.
I want to point out the nicest security guard, the friendliest receptionist. I want to tell them I hope their kid gets all the greatest phlebotomists during their stay.
Maybe, hopefully, this is a short term issue and their kid is going to be good as new, but if they aren't, know that the days between crying bouts will grow and grow. They will eventually have entire weeks, maybe even months, they won't cry from sadness.
I'll tell them true friends will understand floating in and out of their lives. Nurture friendships when possible and let go of the friends that don't get your new life.
I want to tell them there will be days that are going to be hard and they are going to feel they can't make it but maybe, a long time from the night they landed on that parking deck helicopter pad, they will even be happy.
——–
Originally posted on (the now closed) blog Kidneys and Eyes and a finalist and read during the Type-A Conference We Still Blog Awards. Proud to say two of my posts were selected and I was (very surprised!) winner of the award for the inaugral year. 
Note: To support the site we make money on some products, product categories and services that we talk about on this website through affiliate relationships with the merchants in question. We get a small commission on sales of those products.That in no way affects our opinions of those products and services.