The Steps to Changing Pediatricians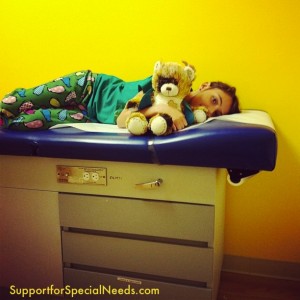 Set Criteria. For you it will likely be different but for us it included the following:
They accept our insurance (stating the obvious).
Good rating on any review sites (and current medical license, yes)
A male and female doctor or at least one of them a Physician Assistant (P.A.) since the kids are getting to an age where it matters if they work with a female or male.
The doctor/s have worked with kids with special needs and preferably a transplant recipient.
The practice handles their own after hours on-call calls.
They have a sick and well entrance.
Within 5 miles, but willing to drive farther for the perfect practice.
Have a pleasant, helpful staff, because they are our touch points 75% of the time.
Interview by Phone. Spend some time talking with a staff person to learn about the philosophy of each practice.  If they don't want to spend time with you, as one employee communicated, by telling me I could find out their policies on their website, they probably aren't the right practice for a family with special needs.

Select One or Two. Choose one or two practices and see if they will let you interview one of the doctors, or the main doc. In my case, on the first round of interviewing practices by phone, one person said, "the doctors will only see new parents and you're not a new parent, so…." (they immediately moved to my "no, not-ever-in-a-million-years" list).
Interview in Person. Plan to interview two doctors. Interview your top choice and go with them if they've met all of your criteria. Know that a lot of this decision is based on gut feeling and know that is completely fine. You know the gut feelings of parents of kids with special needs go a long way, so use them.
You've selected, now what? You think finding the right pediatrician is the hard part, but now it's time to do the real work.
Call your (fired) pediatrician and get your kid's (or kids') records copied. In our case they charged $25 for both kids' records and it took 4 working days but they told me one week.
Change the pediatrician of record with your insurance company.  It'd be ideal to have the records in hands when you do make the date switch.
Create a contact list for the new pediatrician of all of your kid's (or kids') specialists with their contact information and area of specialty and if needed, which child they treat.
Create a one page medical history for your child (or children) for the new pediatrician. There's no reason for your new doctor to weed through everything to get an overview. Provide a timeline including diagnosis, symptoms, treatments, and intervention. It wouldn't hurt to include a quick overview of their development. It doesn't hurt for them to know what major milestones were missed or met.
What your new doctor needs. Finally, you're ready to say you have a new pediatrician. When you drop off the records, be sure to include:
Records (obviously).
 Contact list of other specialists.
One page history.
Copy of insurance card/s.
That's it! One hundred or so simple steps! You're ready to begin your relationship with a new pediatrician. I like to think going through these steps tells the doctor your organized and on top of your kid's (or kids') care. When I proudly dropped off the files for our new doctor I said, "I know, I'm a little OCD about their records." and the front office person smiled and said, "Trust me, we love this."
Note: To support the site we make money on some products, product categories and services that we talk about on this website through affiliate relationships with the merchants in question. We get a small commission on sales of those products.That in no way affects our opinions of those products and services.